It has until now been the posthumous fate of the collector and gallery owner Arthur Jeffress (1905–61) to be a mere footnote, and often an inaccurate one, in books about other people. Of American parentage, he was born and brought up in England, where his father was the deputy chairman of British American Tobacco. At Harrow and Cambridge he developed a flair for theatricals, usually appearing en travesti, but emerged with no real idea of a career. Not that he had any need for one when in 1925, at the age of 20, he came into a large inheritance. The equivalent today of around £8 million, the money allowed him to buy a flat in Belgravia, complete with manservant and chauffeur, and indulge his passion for art, travel and entertaining. For his 26th birthday, wearing white silk trousers, elbow-length kid gloves, diamond bangles and a muff made of real narcissi, he hosted the infamous Red and White Party, seen by historians as the last gasp of the Bright Young Things. In 1932 he moved to a flat in Portman Square, commissioning Eliot Hodgkin to create some trompe l'oeil murals, including one of two French sailors leaning on a windowsill, an elegantly jokey tribute to his principal sexual interests. He would subsequently buy a Georgian country house near Winchester, where he set up home with, of all people, John Deakin, who was then pursuing a career as a painter. Jeffress not only treated Deakin to a set of much-needed new teeth, but was also responsible for his becoming a photographer. During a trip to Paris in 1939 Deakin began taking photographs of such quality that Jeffress's friend Christian Bérard introduced him to the editor of French Vogue. Deakin subsequently worked for the magazine's English edition before finding his true subjects among the denizens of bohemian Soho.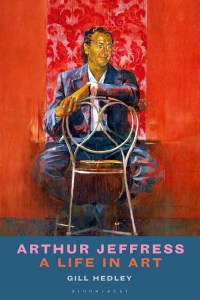 The relationship ended during the war, in which Jeffress joined the American Field Service and survived being torpedoed and captured to serve as an ambulance driver in the Western Desert, Egypt, and as a valued liaison officer back in Europe. He had been buying art during his spells abroad, and in 1946 the Southampton Art Gallery asked whether it could mount an exhibition of his collection. Featuring Picasso's Femme Assise (1938) alongside works by Rouault, De Chirico, Balthus, Soutine, Derain, Modigliani, Dufy, Vuillard and Vlaminck, the show attracted more than 14,000 visitors during the single month it ran, and Jeffress would later bequeath the bulk of his collection to the gallery. The following year he lent more pictures, including the first work of Jackson Pollock ever shown in Britain, to the inaugural Circle for the Study of Art exhibition.
Jeffress was next approached by 'the formidable Erica Brausen', who had worked at the Redfern Gallery and become Francis Bacon's dealer after selling his Painting 1946 to the Museum of Modern Art in New York. She now wanted to set up her own gallery and the wealthy, knowledgeable and well-connected Jeffress seemed an ideal partner. The Hanover Gallery opened in June 1948 with a solo exhibition of work by Graham Sutherland, while Bacon had his first one-man show there the following year, and an annual one thereafter. Jeffress far preferred the work and personality of Sutherland, who would become a close friend, painting his portrait in 1955. Gill Hedley notes that while Brausen 'wanted to run a really significant international gallery', Jeffress 'simply wanted to sell the art he admired', and both succeeded in these aims after the partnership ended in 1954.
Jeffress opened his own gallery, 'just a few doors from Claridges Hotel' as he characteristically put it, a couple of months later. Arthur Jeffress (Pictures) would exhibit what its proprietor called 'modern primitives, trompe l'oeils and "magic realists"', providing 'an oasis of sanity in a world of Tachiste and Action painting'. As his early purchase of a Pollock suggests, Jeffress's taste was in fact much more accommodating than this suggests, and he also regularly exhibited the work of many notable artists who did not fit these categories, including Sutherland, Alan Reynolds and Henry Moore. Crucial to the gallery's success was the distinguished art critic Robert Melville, whom Jeffress had sensibly brought in to help run the business and who became a close and trusted ally.
In 1949 Jeffress had bought a house in Venice, where he lived en prince and kept a gondola piloted by men in a specially designed livery bearing his own monogram. He spent each summer in the city, entertaining lavishly and using it as a base for further European travel, leaving Melville in charge back in London. In 1961, however, he was unexpectedly refused re-entry to Italy as an 'undesirable person'. Although he had never made a secret of his homosexuality, it seems he could not bear the loss of face, both personally and professionally, this ban would entail. He checked into a hotel in Paris and killed himself. He was 55.
Catering to 'those with a taste for decor rather than debate', as Hedley nicely puts it, Jeffress was always something of an outsider in the art world of the 1950s and '60s, feeling more at home among 'the queer cadres of theatre, fashion, journalism and interior design'. Hedley catches Jeffress's tricky character well, but her narrative occasionally loses its way, becoming overwhelmed with digressions about other people, particularly her subject's extensive family. It sometimes feels as if a guest list is provided for every dinner Jeffress gave, while more important details are omitted. For example, Keith Vaughan is name-checked as attending a dinner in Venice, but we are not told that he was one of the 'Five English Painters' exhibited at Jeffress's gallery in 1957. Similarly, Hedley writes that, commissioned by Jeffress, John Piper 'first made drawings in Venice during spring 1959', but no mention is made of the fact that Jeffress held a very successful exhibition of Piper's Venice paintings in 1960, buying one of the best of them – dated 1958 and the result of a trip to the city that year – for himself. This is nevertheless a fascinating and very worthwhile book that rescues an extraordinary figure from undeserved oblivion.
Arthur Jeffress: A Life in Art by Gill Hedley is published by Bloomsbury Visual Arts.
Black Friday sale: 6 months for the price of 3
Subscribe using our Black Friday sale to get six months of the most incisive art writing available for the price of three.
Recommended for you