Despite widespread interest in the Arts and Crafts Movement in general, the subject of Arts and Crafts churches is a fairly rarefied one, demanding extensive travel and dogged persistence in pursuit of elusive key-holders; so it is surprising that two books on the subject should come out at roughly the same time. Due to Covid-19, Lund Humphries' production of Alec Hamilton's beautiful, weighty tome was delayed a few months, so Roger Button's volume led the field. Given the relative obscurity of their chosen subjects, it is no surprise that each author should begin by trying to define what precisely constitutes an Arts and Crafts church. For Button it relates to the way the building was conceived and commissioned – it should 'be designed around the needs of its users rather than to a particular "style"' – and should ideally be built largely by hand. Alec Hamilton's guidelines are more pedantic, stating that an Arts and Crafts church should be built after 1884, by a member of either the Art Workers Guild or the Arts and Crafts Exhibition Society, or somebody – either architect or client – sympathetic to their aims, before declaring that 'there are exceptions to all the above'. Button homes in on 1875 rather than 1884 as the year he feels the four essential strands came together to sow the seeds of the movement: 'concern about industrialisation'; 'importance of craftsmanship'; 'need for social harmony'; and 'return to local vernacular traditions'. Both authors find it easier to define what is not rather than what is Arts and Crafts: of the 5,000 churches built in the UK between 1884 and 1918, Hamilton suggests that 'perhaps only 350 can in any sense be understood as "Arts & Crafts"'.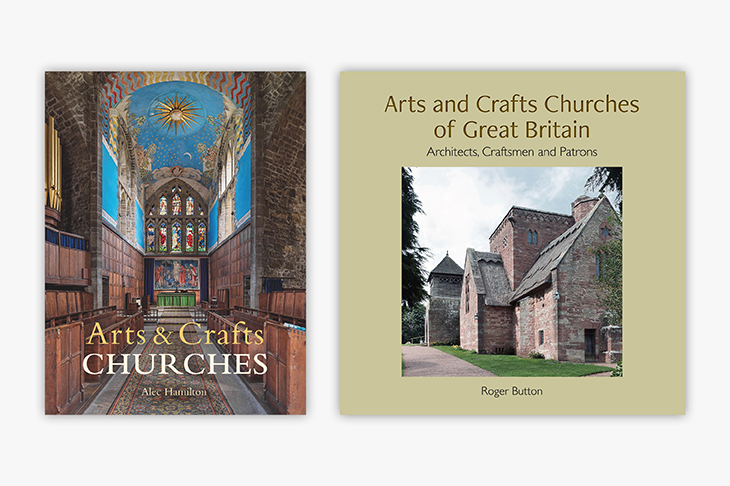 The larger part of both books is organised in the form of a gazetteer, region by region, complete with maps and, most usefully – especially with regard to the remoter chapels and churches – postcodes. Hamilton also notes whether they are likely to be open or not and occasionally includes contact details. Aware of the permeability of their subject, both Button and Hamilton embrace precursors such as Sarah Losh's Cumbrian church of St Mary, Wreay, from the 1840s. Regardless of the fact that it predates his 1884 guideline by more than 40 years, Hamilton treats it in the same manner as other buildings, while Button includes it in a chapter headed 'Remarkable Women', devoted to Sarah Losh, Phoebe Anna Traquair and Mary Watts. He underplays both Bodley and Sedding, on the grounds that buildings such as All Saints, Cambridge and Holy Trinity, Sloane Street are 'still gothic revival in spirit', and only mentions in passing Bodley's All Saints, Selsley (1860–62) with its early Morris & Co. windows, while Hamilton gives it half a page.
Button begins with eight pages devoted to Philip Webb's St Martin's, Brampton (1878), which he describes as 'The first church built in the mainstream of the British Arts and Crafts Movement'; Hamilton is briefer, describing it as 'Arts & Crafts in embryo', a term that could equally be applied to Pugin's little gem, the Church of Our Lady & St Wilfrid at Warwick Bridge (1840–41), a mere five miles away and also under the patronage of the Howard family, Earls of Carlisle. The local patron often emerges as a key figure in the selection of architect, as well as in the building of Arts and Crafts churches, be they aristocrats, landed gentry or grieving widows such as Louisa Tooth at St Mark's, Brithdir (Henry Wilson, 1895–98), and Louisa Sophia Harris at St John the Baptist, Matlock Dale (Guy Dawber, 1897). With regard to the latter, a writer in the Builder's Journal (April 1901) described how 'Care was taken in designing this delightful little chapel to make it appear to grow naturally out of the wall below and to get the effect of clinging to the side of the hill'. Button compares it to a church in an Italian hill town; Hamilton, helpfully, for the would-be visitor, gives a telephone number and notes that parking is 'extremely difficult'.
Although there is a considerable amount of overlap, the two books are not in competition. Hamilton's is without question the most ambitious, with detailed descriptions of 128 places of worship – both authors are strictly non-denominational in their selection – compared to Button's 45. Only 23 are included in both books, thus giving detailed coverage between them of some 150 churches, less than half the number deemed by Hamilton as falling within the 'Arts & Crafts' category. Hamilton, however, makes up for this in his wide-ranging interpolated essays on subjects as diverse as 'Oxford Chapels', 'The Settlement Movement', 'Byzantine Birmingham', 'Caroe's Pretty Toys' and 'Colliers' Churches', plus a catch-all list of 'Other Churches' at the end of each section. The two books run the gamut from major to minor, from Robert Weir Schultz's St Andrew's Chapel in Westminster Cathedral to a converted thatched barn with Crittall windows at Silver End in Essex. They cover chapels in country houses – Rodmarton (1928–29) and Madresfield Court (1902–23) – Methodist chapels and Quaker meeting houses, the length and breadth of Britain from Melsetter in the Orkneys to Launceston in Cornwall. Despite their declared dates for the dawn of Arts and Crafts, the authors between them range with ease and affection from Sarah Losh at Wreay to John Fraser Matthew's Robin Chapel, Edinburgh (1953), providing historic detail and extraneous information that will appeal as much to those interested in social history as to the dedicated church-crawler.
Arts & Crafts Churches by Alec Hamilton is published by Lund Humphries; Arts and Crafts Churches of Great Britain: Architects, Craftsmen and Patrons by Roger Button is published by 2QT Publishing.
From the October 2020 issue of Apollo. Preview and subscribe here.
Recommended for you