Iranian-American artist Shirin Neshat launched YARAT's new space in Baku this spring with a new photography commission, The Home of My Eyes. Now, back across the Atlantic, she is the subject of the Hirshhorn Museum's 'Facing History', which draws out social and political pivots from her best-known work. She spoke with me from her New York studio about fictionalising reality, never feeling accomplished, and travelling between the media of still photography, video art, and feature-length film.
Kasia Maciejowska: Your current exhibition in Baku is about Azerbaijan and its people – can you tell me about your own connection with its Persian history?
Shirin Neshat: My mother and husband's roots trace back to Baku so I've always had a personal interest in Azerbaijan. I remember that my first visit to Baku coincided with Nowruz [Persian New Year], which gave me an experience I haven't had in years. With the 1979 Islamic revolution, elements of Persian culture – like its Zoroastrian tradition – began to dissipate in Iran, while it is still actively celebrated in Azerbaijan. So as you can imagine when I first visited Baku I was struck by its similarity to the Iran I remember from my childhood, before the revolution.
KM: Was the series you shot in 2014 about capturing that sense of heritage?
SN: There were several logics behind this series. First of all, the intention was to make an exhibition that could draw average citizens to the newly established museum of contemporary art. Secondly, I was thinking about Azerbaijan's identity, a crossroad between such diverse ethnicities, languages and religions. I wanted to focus on the notion of home on both a personal and national dimension.
With the curator Dina Nasser-Khadivi and YARAT, we all agreed that it was important to create an exhibition that wasn't just for the few contemporary art followers in Baku but for the general public. Originally I was supposed to create only seven portraits and the rest of the show was to be a survey of my past work, but once I started shooting the photographs it was clear that we should focus mostly on these commissioned portraits.
My subjects were Azerbaijanis of different genders, generations and ethnic backgrounds; some were students, others were workers, housewives with young children, grandmothers and so on. The process involved asking each individual several questions about the concept of 'home.' The answers were humble, spontaneous and honest. We took these answers in Azeri and Russian and translated them into English, then into my own language, Farsi, before inscribing them on each of their bodies on the surface of the portraits. In the end The Home of My Eyes became a tribute to Azerbaijan, but through my own personal lens and sense of nostalgia.
KM: Did you witness a changing self-awareness in front of the camera and around answering these questions about themselves in the people you photographed?
SN: I find that when one invites regular people to be in front of the camera, they immediately become self-conscious and uncomfortable; they need your care and attention, they need to feel important and respected. This experience is new for me since in the past I have mostly shot myself, models, or professional actors. Working with the general public, that has little understanding of contemporary art or of my own past work, was a challenge, but I have grown from it.
KM: I'm interested that you usually cast professional actors and models considering the documentary root in your work. How does working with non-professionals shape the Baku photographs?
SN: I recently had a similar experience of working with non-professionals. In 2013, I shot a series of portraits in Egypt titled Our House Is on Fire, where we recruited regular elderly citizens to pose as themselves: therefore the project had a rather documentary twist to it. Yet in the end, the series retained a fictional style since the photographs were highly stylised.
In my opinion conceptually, The Home of My Eyes series created for YARAT holds both a patriotic and mystical resonance. I must also admit that I was inspired by El Greco's religious paintings and his use of body gestures, especially his exaggerated use of hands. So I worked with my subjects not only on their gazes but also on their body language and postures. Their poses were like an improvisational dance that the camera tried to capture. They took directions very well and each person developed their own unique body posture.
KM: Are these stills and the Egyptian stills a return to photography from moving image? Do you consider your still images as different from your video works and feature film?
SN: Yes, for me my work in still photography, video installations and cinema are totally different languages and demand different attention from me. I started with black and white photographs from 1993–97, but then from 1998–2003, I became heavily involved with making video installations, and eventually in 2009, I directed my first feature length film Women Without Men.
Since 2009 however, when I felt I had enough of the moving picture, I wondered if I could return to the simplicity of my own black and white portrait photography, devoid of any background or narrative. So in 2012, I went back to still photography and created over 80 photographs under the title of The Book of Kings, and then in 2013 I shot over 20 photographs in Egypt which – as I explained – was a series called Our House is on Fire.
So I go through periods when I indulge in a certain medium until I become exhausted, and I then return to another medium. For me still photography is a studio practice and far more solitary, but making videos or film is a collaborative, team effort. Filmmaking is also an extremely ambitious practice, which takes you outside of your studio and of art institutions and places you in the world and at the mercy of popular culture and the entertainment industry. I find this part of filmmaking quite challenging.
At the moment, having finished producing work for three major museum exhibitions, I'm busy re-writing a script for my next feature film, which requires being alone. Generally, I find myself shifting media on a daily basis, and each medium takes me in a different direction artistically and professionally, but I find this part of my practice very healthy because it stops me from repeating myself and keeps me on the edge.
KM: What kind of collaborator would you say you are, what's your formula?
SN: For me, as an artist who often works in collaboration with others, the best way is to first develop a clear vision, then take the best advice from everyone else around you. This requires being respectful and patient so that all contributors feel they're somehow rewarded for the project they're investing in, yet this should be done without compromising one's original idea.
I should add that unlike in the art world, where galleries and dealers usually leave the artist alone to make their own artistic decisions, in cinema, the producers are highly involved in the artistic development of the project and therefore the director is faced with certain conditions and demands.
KM: How independent or intuitive can you be when collaborating like that?
SN: Well, to give you an example, in making my last film I had become a bit removed from the script writing process as two people were writing it and I was simply advising them, yet after a few years the producers felt that the story lacked my signature and that I needed to take a leading role in writing. Of course I had never written a screenplay before, so I was rather nervous but I managed to reconceptualise the entire film and took a new direction, which everyone now seems to support. This period has been a very creative time for me as I allowed myself to write and gave myself the confidence to imagine a whole film from the beginning to the end.
KM: Your work is ultra stylised to the point of being easily identifiable – how have you developed and stuck with your vision?
SN: Nothing in my work is accidental and I can be a perfectionist – sometimes editing a short art video can take up to six months or more than a year. I'm not a snapshot artist, even in photography. Preparation, production and post-production all take a long time for me because every detail counts, that's why I make so few pieces and in such a distinct style. Women Without Men took over six years to make: four years of scriptwriting, nine weeks of shooting and two years of editing. Now I have been involved with my current film Looking for Oum Kulthum, which is only in its development stages and has already taken nearly five years.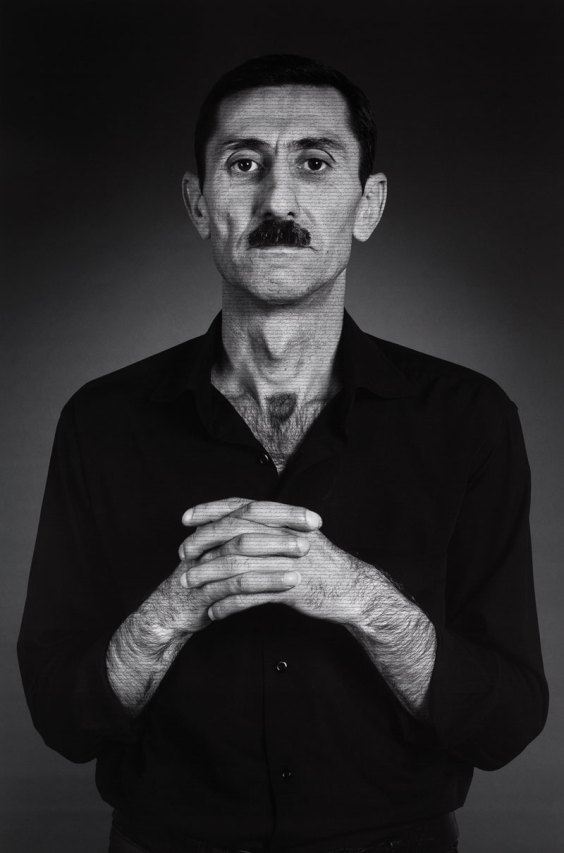 KM: As an outsider in America, has art provided a sort of home for you?
SN: I travel constantly to make and show my art, which has eliminated the notion of an absolute centre or home for me. Slowly I have come to accept and enjoy this nomadic life style, and try to adapt to where ever I am, and of course what always becomes the thread between all the many places is the making of 'art'.
KM: People always focus on the Persian and Iranian influence in your work but in fact you've spent much of your life in America. How has living in the US and New York in particular shaped your work?
SN: The level of exposure New York provides by being truly an intersection for a wide range of artists from different cultural backgrounds, continuously feeds my mind. I find the vitality of the New York community an essential part of my artistic practice and an invigorating environment. I'm not someone who would live in the countryside. New York has broadened my vision and has helped me to be ambitious, inspired and has kept me on the edge.
KM: Now that you're established and your exhibitions have become retrospectives, has the narrative you tell yourself about your career changed?
SN: Not really. I never feel accomplished. I've been having retrospectives since 2000 and my career has been quite steady with no major jumps. I've been both criticised and praised. Nothing has changed for me, which I like because in the end all I want is to keeping working. Looking back can be good and bad; you can learn from your mistakes, your strength and weaknesses. But I also like to keep looking to the future rather than thinking in terms of any kind of legacy. As an artist I think of myself as a young filmmaker. I feel that I have struggled to create the work that I have thus far, and I find this struggle quite healthy and rather addictive.
YARAT, the not-for-profit contemporary art organisation founded in 2011, opened its new Contemporary Art Centre in Baku, Azerbaijan, on 23 March. Click here for an interview with the founder, Aida Mahmudova.
'Shirin Neshat: Facing History' is at the Hirshhorn Museum, Washington DC, until 20 September.
Related Articles
Art and Azerbaijan: interview with YARAT's Aida Mahmudova
Recommended for you