Spotted around London this week
Day 1 | Day 2 | Day 3 | Day 4 | Day 5

What We Like
At Somerset House
El Anatsui's huge wall piece, Fresh and Fading Memories, Part V (2007) greets visitors to Somerset House's west wing and the 1:54 Contemporary African Art Fair. It has a startling physical presence – slightly ironic when you realise that it has been lent by BASMOCA, a 'virtual museum' launched by Basma Al Sulaiman in order to make her private art collection accessible via the internet.
Also opening today is a characteristically compact yet powerful display at the Courtauld, of Peter Lanyon's 'gliding' paintings. The works were inspired by his flights over the coast of Cornwall in the early 1960s: it's extremely rare to see so many in one place. Pop in for a breath of fresh air.
At GRAD Gallery
Not content with linking to just one major contemporary art event, GRAD's Frieze season show doubles up as an outpost of the Moscow Biennale. Olga Chernysheva's drawings and photographs of 'peripheral' life in Russia would be lost in the tent at Regent's Park but do well here, staged in an unusually light (for GRAD) space with temporary wall fittings inspired by Soviet-era storage units.
At Frieze Masters
Outsider art at the Gallery of Everything, including a dozen drawings by the Mexican artist Martin Ramirez. Ramirez emigrated to California in the 1920 and spent several years working the railroads before he was institutionalised and diagnosed with schizophrenia in 1931. Over the following decades, he made hundreds of idiosyncratic drawings, pulling together patterns from Mexican folk art with images of modern California. Also worth checking out here is a cabinet of watercolours by the Austrian porcelain painter Josef Karl Radler. And a bar at the back of the stand.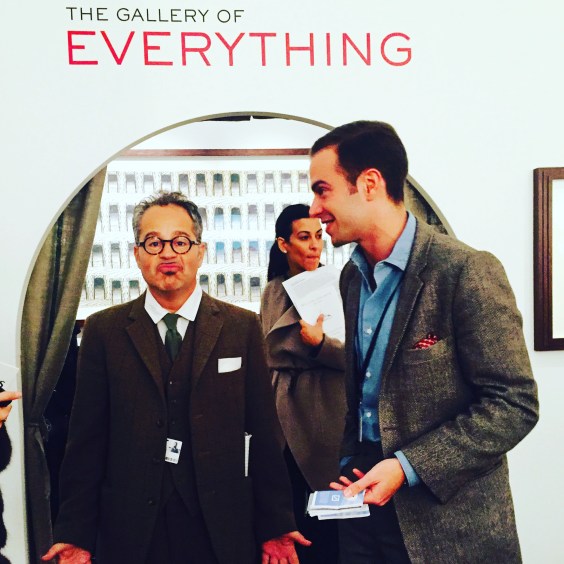 What We've Seen
Princess Eugenie at the Chiltern Firehouse, having hot-footed it to the women in art party from the Hauser & Wirth booths at Frieze and Frieze Masters. Tip for sleb-watchers here: try the smoking area, through the mirrored doors at the back of toilets…
Nobody saw Brad Pitt, who was apparently enjoying a private after-hours tour of Frieze last night.
Neither did we see FOS, the artist honoured with fig-2's Frieze Week slot at the ICA, who failed to turn up to his own breakfast this morning.
Day 1 | Day 2 | Day 3 | Day 4 | Day 5
Unlimited access from just $16 every 3 months
Subscribe to get unlimited and exclusive access to the top art stories, interviews and exhibition reviews.
Recommended for you