Leonard Rosoman was the sort of painter – the sort of character – one thinks one knows. His life was long, very nearly a century (1913–2012), and his progression through it, socially and artistically, was, to most observers, untroubled. He was 'charming and highly observant', according to Peyton Skipwith, 'a youthful Peter Pan well into his nineties'. At art school he won just about every scholarship going. He had sympathetic, if exacting, teachers, including Bernard Meninsky, many of whom became good friends, and in the 1930s they directed him to jobs illustrating for Shell and Cresset Press, and designing for advertising firms. Commercial work didn't detract from his standing as a painter: 'There are worse groundings,' Rosoman said.
Rosoman's war was productive and transformative; it taught him that 'there is no freedom without boundaries'. Safely ensconced in the Auxiliary Fire Service for the early part, where he was billeted with Stephen Spender and the novelist William Sansom, he had plenty of time for painting: in 1940 he helped to form the Firemen Artists' Organising Committee. In early 1945 he was appointed an Official War Artist (the second youngest) and sent to the Pacific, where he refused to record the Japanese peace signing on 16 September, telling the Advisory Committee (or so he claimed): 'Am proceeding to Hong Kong but Japanese surrender not my cup of tea.'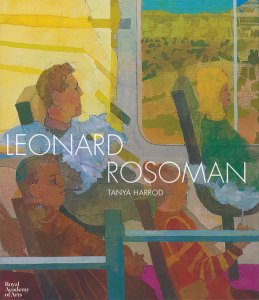 The doubtfulness of this story is one of the many small shadows that define Tanya Harrod's detailed new biography of Rosoman. They help us to see him more clearly. Rosoman wasn't the sort to announce himself, and he painted in that way, but he had a knack for being in the right place at the right time, for having friends and lovers who drew him out and institutions that sought him out, even if he didn't always look on them approvingly. After teaching at Edinburgh and Chelsea College of Art, he was asked to join the staff of the Royal College of Art in 1956. 'I particularly want you to form a bridge between the School of Graphic Design and the School of Painting,' the rector, Robin Darwin, told him. Rosoman was to spend the rest of his life closely associated with the RCA – as a teacher for over 20 years. He became a Royal Academician in 1960; his mural Upstairs and Downstairs (1986) adorns the Grand Cafe. People don't pay much attention to murals, and Rosoman's, which depicts, in his light colourful acrylics, hungry crowds charging through the Summer Exhibition and equally ravenous art students, is a gentle enough satire to escape notice. But like most of his work, it deserves – even if it doesn't demand – another look.
Discussing his contribution to the British Library's National Life Stories project, Harrod remarks that Rosoman's 'vagueness about his early life is striking'. Her study – the first major book on the artist – situates his work in that vagueness. Rosoman was certainly equivocal about his early life. His parents, he said, were 'strange'; his father something of a scoundrel, whose itinerancy Rosoman made sound more coherent than it was. After his parents separated, he was abandoned with relatives and was, so he said, 'beastly', more interested in boxing than art. There may have been a class element to his evasiveness, Harrod points out. In the 1960s he became great friends with John Osborne and said of him: 'John […] had to work to work his way out of his background and hated doing so. The battle he fought, I think he won creatively, but where did he, himself, stand at in the end?' Harrod thinks this could equally apply to Rosoman, though his work is much more ambivalent about class structures. He didn't fit with John Berger's social realists, nor was he part of the Soho scene; he didn't paint severe portraits or powerful explorations of the nature of reality.
Rosoman's still lifes and city scenes of the 1960s – often featuring gardens and windows and half-hidden figures – are beautifully coloured, layered creations, illustrative and decorative. These have sometimes marked him out as an artistic loner, but Harrod's book makes clear how immensely sociable he was, even if, as his students commented, he 'kept a great deal in reserve'. His reserve insulated him from the difficult abstraction/figuration debates at the RCA, which disheartened colleagues like John Minton. But Rosoman moved through and contributed to many of the major artistic events of the mid-century: he created the designs for Richard Buckle's Diaghilev project; hung the central room at the Royal Academy Summer Show in 1962; painted murals for the Festival of Britain, for the Shakespeare Exhibition in 1964, for hotels, banks and colleges. Harrod's book is, consequently, a portrait of the changing art scene in London, of its movements and trends, schools, galleries and practitioners, with her subject often positioned obliquely to them.
What Rosoman took from his times isn't always easy to see: his sensibility seems rooted in his early design work – playful, strongly outlined, sometimes grotesque – while the stylised patterns of his everyday scenes, the bright colours muted by layers of glaze and overpainting in works like Girl Behind a Screen (1952), owe more to early 20th-century French painting, to Vuillard and Bonnard. Some of his best paintings came out of a series inspired by Osborne's play A Patriot for Me. The story, which culminates in a drag ball, was too sexually transgressive for the censor; for Rosoman it was rich in decorative and atmospheric potential. The images are strikingly composed but also patterned and intricate; in Maximilian Schell as Redl (1968) the textures and motifs of costume and scenery work their way across the picture, leading less to a heightened artificiality than an intense claustrophobia. Rosoman's own inheritors are surprising, though perhaps indirect. There are echoes in Paula Rego's graphic work, but also in artists like Peter Doig (consider the snow scenes of the late 1970s). Rosoman's more austere, tonal landscapes, which must have been influenced by his friends in the Bay Area, and the ambiguous, almost unfinished paintings like The Horses of San Marco (1983) look decidedly modern today.
Harrod doesn't ignore Rosoman's frequent neglect by critics, who often approved without admiring, finding him lacking in conviction, or criticising his 'tendency to cloud his shapes in a gentle haze'. At times it's hard to find the intrigue in a painter who ended up living in an elegant Kensington townhouse, socialising with Tory MPs and wine columnists, and undertaking a 'deluge' of official portraits; his viewpoints were technically novel, but not spiritually. But then Rosoman would have seen that as a failing. He was a sometimes severe self-critic, and in later life detested his most famous early work, A House Collapsing on Two Firemen, Shoe Lane (1940), which was bought by the Imperial War Museum straight after completion. Rosoman had almost been caught in the calamity himself, and said he had to paint the image 'out of my system'. But he came to see it was 'a clever work of the wrong kind' – too sentimental, too direct. He would seek more disconcerting angles.
Leonard Rosoman by Tanya Harrod is published by the Royal Academy of Arts.
From the December issue of Apollo. Preview and subscribe here.
Recommended for you