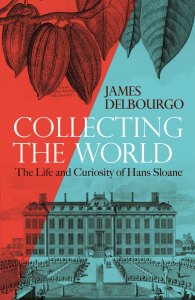 The small village of Killyleagh in County Down may seem an unlikely place to find a statue by Rysbrack. It is in fact a replica, but suggests just how far its locally born subject, Sir Hans Sloane, rose from his comparatively lowly origins as the son of two employees of the Earl of Clanbrassil to become one of the most famous men of his age. Born in 1660, Sloane began a lifetime's collecting during childhood as he explored the shores of the nearby lough in search of plants, shells, rocks, and eggs. At the age of 19 he went to London to train as a physician, eventually becoming the era's most celebrated doctor and perhaps the world's greatest ever collector of miscellaneous objects. He served as royal physician to both Queen Anne and George I and was the only person to have been concurrently president of both the College of Physicians and the Royal Society. As James Delbourgo puts it in his densely detailed account of Sloane's life and times, 'With exemplary sociability, redoubtable shrewdness and unflappable patience, he had installed himself at the centre of British society'.
Sloane began 'collecting the world' when he sailed to Jamaica in 1687 as the personal physician to the Duke of Albermarle. He spent 15 months on the island, attending not only to the Duke but also to plantation owners, whose health had been undermined by the climate and the alcohol they consumed to keep boredom at bay, and their slaves, whom he questioned closely about what they grew, ate and believed. He returned to England with a long and detailed journal and hundreds of specimens of plants, animals and 'curiosities', all carefully labelled. He would subsequently publish both a Latin dictionary of Jamaican plants (1696) and a two-volume Natural History of Jamaica (1707–25), its many illustrations based partly on the herbarium he had created on the island (now in the Natural History Museum). The voyage also led to his marriage in 1695 to the wealthy widow of a planter he had met in Jamaica, who was one of the island's leading slave owners and 'regularly purchased hundreds of Africans in the 1670s'. It is an unhappy fact that a considerable proportion of the money Sloane used to amass his collection was derived from slavery, in addition to which Sloane sometimes advised slave owners and traders about their businesses. Delbourgo treats this difficult aspect of Sloane's life admirably – in forensic detail, without fudging, but also without pointless ahistorical hand-wringing. As he suggests in his introduction, 'rather than try to pull Sloane into our world, we must enter his'.
Delbourgo does this by marshalling a huge amount of material, not just about Sloane himself but also about the political, social, medical and scientific communities in which he moved. He places Sloane at the centre of a vast web of contacts in a period where Britain was pursuing territorial ambitions and growing into a great world power. No one had created a cabinet of curiosities on such a huge scale before, and Delbourgo shows how two kinds of acquisitiveness – national and personal – were closely related.
Not everyone was impressed, and some found Sloane's curiosity too undiscriminating. His interest in medical curiosities in particular was dismissed as 'vulgar', making him seem less like a gentlemanly connoisseur and more like the proprietor of a raree-show. In fact this interest was related to his work as a doctor, and his accumulation of objects relating to folk-remedies was partly intended to expose superstition and credulity wherever he found it. As a staunch Protestant Sloane drew no distinction between what he called 'popish trinkets, crucifixes & beads' and the protective amulets worn by tribes remote from Western civilisation.
Although he rightly believed that 'the collection and accurate arrangement of these curiosities constituted my major contribution to the advancement of science', he was criticised for being unscientific in his approach, more interested in cataloguing the world than interpreting it. Some were appalled when he succeeded Newton as president of the Royal Society: 'After Newton had scaled the heights of genius in natural philosophy, Sloane the trafficker in baubles was a rank embarrassment.' Delbourgo suggests, however, that Sloane's 'natural history' was as important in understanding the world as Newton's 'natural philosophy'. Sloane worked with and supported the pioneering English botanist John Ray, and Linnaeus used the Natural History of Jamaica while writing his Species Plantarum (1753), 'citing its engravings as authoritative illustrations of the species he classified'.
These engravings were indeed superb, done large-scale and costing Sloane an astonishing £500. Sloane was also a key sponsor of Mark Catesby's travels, which resulted in another landmark in illustrated books, The Natural History of Carolina, Florida, and the Bahama Islands (1729–47), a publication for which Sloane was a principal subscriber. Indeed, Sloane collected books with as much fervour as he collected objects, amassing some 50,000 volumes. A guided tour of his collection could last four and a half hours, taking in drawer upon drawer of minerals, corals and sponges, precious stones, fossils, shells, animals, fish, birds, insects, eggs, plants, and 'Vegetable Substances', as well as some 32,000 medals and coins, 1,125 'Antiquities', and more than 2,000 'Miscellaneous Things'.
Despite Handel disgracing himself by putting down a buttered muffin on a manuscript ('it put the poor old bookworm terribly out of sorts,' he supposedly reported), Sloane genuinely wanted people to engage with the collection. In accordance with his wishes, it was acquired by the nation after his death in 1753 to create a museum that would be open to anyone, forming the nucleus of the British Museum. Delbourgo's account of the transition of what some had dismissed as a privately owned jumble of knick-knacks into the first national public museum in the world forms a fitting conclusion to his revealing and often witty portrait of a flawed but fascinating man.
Collecting the World: The Life and Curiosity of Hans Sloane by James Delbourgo is published by Allen Lane
From the December 2017 issue of Apollo. Preview and subscribe here
Recommended for you