Think of On Kawara, and in all likelihood it is one of his date paintings that comes to mind. Their crisply rendered white numbers and abbreviated months take their place at the centre of grey, red or blue canvases, each marking – memorialising, even – the day of their execution. Kawara mixes each colour of his self-restricted palette by hand so that when the paintings are displayed together, subtle distinctions between shades emerge. Infinite chromatic differences vie with apparent homogeneity, reinforcing the shared specificity of his calendar dates.
Kawara has produced the date paintings since 4 January 1966 (though not every day and sometimes he has produced several paintings on one date). The very first is displayed here lying flat on its back, so that the boxy canvas also reminds us of archival storage units and buried time capsules. However, the Guggenheim show, which is Kawara's first substantial museum retrospective, offers a much wider view of his work while honouring the centrality of the date paintings to his practice.
The decision to place Kawara's work Title (1965) at the start of Silence is therefore significant. Consisting of three crimson canvases bearing the phrases 'One Thing', '1965' and 'Viet-Nam' respectively, the triptych conveys both the consistency and also the expansiveness of Kawara's practice, and signals its inevitable enmeshing with the time and place of its making. Title anticipates the date paintings, but also Kawara's exploration of multiple other forms of notation. It also bespeaks a politics that complicates received notions of minimalist rigour and conceptualist bureaucracy in the artistic practice that emerged in New York, where Kawara lived, during the late 1960s and 1970s.
Although collectively entitled Today, the date paintings have also been displayed in groupings under other titles at different times. Everyday Meditation, a series of consecutive and equally sized date paintings from the beginning of 1970, curve like a grey spine along the lower circles of the Guggenheim rotunda. They constitute the longest uninterrupted spate of date paintings, covering three months from January to March. A vitrine runs underneath, housing the individual containers that Kawara crafted for each painting from cardboard, which are lined with a sheet of that day's newspaper from whichever city or country Kawara was in at the time.
These document boxes offer a snapshot of the myriad stories and events marked by a single date. Recurring themes emerge, reflecting the circularity of current affairs as much as specific selections on Kawara's part: 'Israeli jets fight Egyptian planes over Suez Canal'; 'white pupils are fleeing Mississippi public schools.' This is reinforced when you arrive at the apex of the Guggenheim's shell-whorl galleries – normally an intransigent space that here helps this exhibition's engagement with reflexivity and return – where constellations of paintings and newspapers from different years within Today reveal repetitions within difference.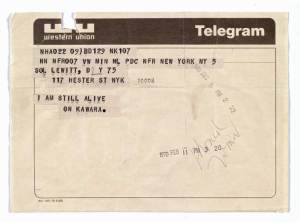 Between Everyday Meditation and these later groupings, however, Silence carefully unpacks the wider body of Kawara's practice, showing how the concerns of Today have fed into other projects. These range in extent and tone: I Am Still Alive is wry and poignant, comprising multiple telegrams bearing this titular assertion. For I Got Up (1968–79) Kawara sent two picture postcards of the city in which he was staying to different recipients, marked with the time and date that he awoke. The postcards themselves unfold the tourist topography of the peripatetic artist – as the inclusion of the early work Location I (1965) in the show underlines, Kawara is as concerned with place as time – while mapping a network of relations between Kawara and his recipients.
Elsewhere self-scrutiny proliferates in graphs, maps, charts and documentary photographs, which are often gathered together in serried journals, which also record the making of the date paintings. I Read (1966–95) consists of newspaper clippings compiled into binders, while I Met lists the people Kawara encountered daily, each secured in a plastic wallet. Yet the effect of this self-scrutiny never feels totalising or solipsistic. Instead Kawara's projects can be understood as temporary monuments – markers that acknowledge the slipperiness of time and memory, and the limitations of memorialisation.
Throughout the exhibition, on selected days performers will recite dates out loud part of Kawara's One Million Years project – the only one that he envisaged continuing beyond his death. There is an affinity between the brief embodiment of performance, and the date markers around which Kawara structured his practice. They are shared but temporary co-ordinates that unite individuals into collectives, and offer a limited purchase on the past even as they denote its passing.
'On Kawara: Silence' is at the Guggenheim, New York, until 3 May.
Recommended for you