Walking into the Wallace Collection's Great Gallery has always felt like coming across some opulent secret; its size and grandeur unanticipated by any kind of portico, staircase or vestibule. Entering for the first time since its two-year refurbishment and rehang, that sense of unexpected treasure has not been diminished. The space overwhelms the viewer; the effect being sufficiently princely to transport us from the grubby neon realities of nearby Oxford Street.
The key to this effect is the architectural modification of the space, reopening a skylight once hidden by a false ceiling. This allows natural daylight to fill the room, burnishing Titian's red-pinks and letting the blue robes of the Madonnas sing softly against the new red damask walls.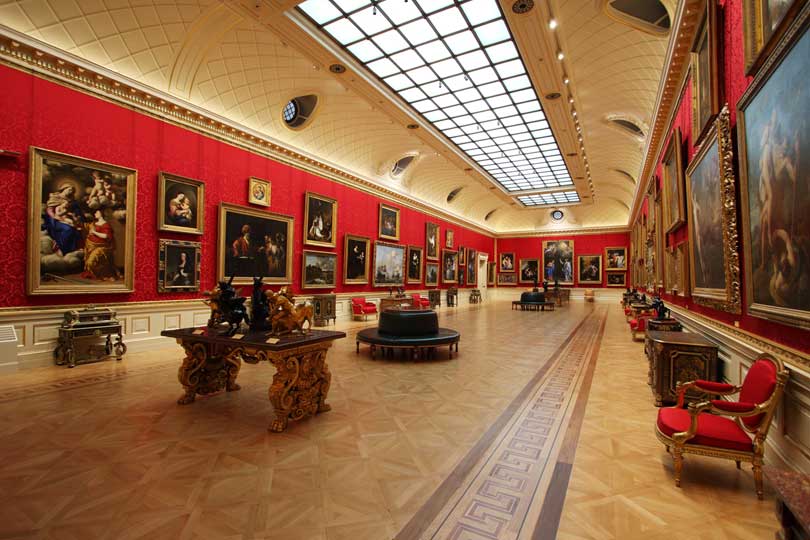 Click here for a gallery of highlights from the Great Gallery
Once the initial effect has been absorbed, individual paintings call attention to themselves. The aim of this new hang, as stated in the introduction to the gallery's label book, is to group paintings in ways that suggest relationships between artists and schools, rather than simply placing them in their respective national and chronological categories. Reynolds' infant St John the Baptist in the Wilderness hovers above an equally precocious Prince Baltasar Carlos in the Riding School, from the studio of Velázquez, the dialogue between them offering us an insight into both the painting of childhood, and Reynolds' emphasis on emulating European masters. The hang also offers visually engaging colour stories – Titian's Perseus and Andromeda now sits in conjunction with Lemoyne's essay on the same mythological scene, alongside the latter's Time Saving Truth from Falsehood and Envy. These vast canvases complement one another, together forming a harmonious swathe of nude flesh and blue sky.
The scholarly work that has gone into this hang is clear, though one wonders if some of the nuances might be lost on the non-specialist. It's a hang by art historians, for art historians – which is no bad thing, but there are occasions where didacticism can take precedence over viewing pleasure. George IV, flattered and rouged by Lawrence, has been removed from the western to the eastern wall, now divested of his sumptuous seraglio of mistresses and instead surrounded by the Dutch still lives of which he was a keen collector.
A final word must be reserved for the furniture and small sculptures on display, which tend to get undeservedly overlooked with so much wealth on the walls. Thoughtfully placed, they offer a contextual counterpoint to the paintings, bringing to life the palatial spaces these monumental canvases once occupied.
The Great Gallery is now open at the Wallace Collection, London.
Related Articles
Gallery: The Wallace Collection's Great Gallery reopens
'Houses as Museums…Museums as Houses' (Katy Barrett)
Recommended for you