When I organised the 'Bronze' exhibition at the Royal Academy in 2012, it seemed blindingly obvious that Michelangelo had to feature in it. The only niggling problem was that – as any fule kno, to quote the great Nigel Molesworth – there are no bronzes by Michelangelo. That is not to say – in spite of his well-attested love of marble – that he never made bronzes. On the contrary, two are well documented, but his bronze David vanished during the French Revolution (which means that – at least in theory – it might turn up one day), and his bronze effigy of Pope Julius II for Bologna, which was intended to let them know who was boss, was vindictively melted down by the Bolognese once they had regained control of the city, and recast as a cannon.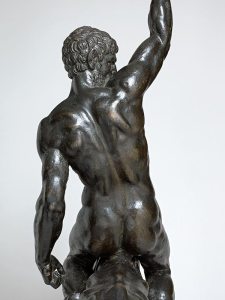 I solved my little local difficulty by including a wonderful translation into bronze by the 18th-century Florentine sculptor, Massimiliano Soldani of Michelangelo's Bacchus. Now, however, it may turn out that Michelangelo was there all along. A new presentation at the Fitzwilliam Museum in Cambridge of two splendid bronzes of Bacchants Riding on Panthers, which were catalogued as being Roman, c. 1550 at the Royal Academy, argues that they are instead early works by Michelangelo himself, dating from the first decade of the 16th century, and therefore from around the same time as his marble David and the beginning of his work on the Sistine Chapel ceiling – not to mention the bronzes of David and Julius II.
No doubt there will be the usual scholarly equivalent of a pantomime slanging match (Oh yes he did, Oh no he didn't), and the lack of any documentation – so far at least – before the 19th century will be held against them, given how much we know about Michelangelo's career. Be that as it may, as a rule such discoveries either gain perhaps surprisingly swift acceptance from everyone with the exception of a few diehards – as was the case with Michelangelo's wooden Crucifix for Santo Spirito in Florence, which was discovered as recently as the 1960s, but was known to have existed – or almost equally swiftly fail to convince, and are soon forgotten.
This is neither the place nor the time to pass judgment on the matter, not least since the various contributions to a not insubstantial book presenting the case in favour of Michelangelo's authorship will need to be digested thoroughly, but it is tempting to surmise that much will hinge on what people make of the connection between the bronzes and a drawing in the Musée Fabre in Montpellier, which is generally agreed to be a copy of a lost early sheet of studies by Michelangelo, and certainly features spidery pen sketches of men on big cats. Whether posterity comes to the conclusion that the bronzes are by big M or not, they are unquestionably works of extraordinary quality.
Greek bronzes, cultural property in war zones, and Victorian art in London…Preview the February issue of Apollo here.
Related Articles
Book of the Year: Jeremy Warren's catalogue of the medieval and Renaissance sculptures in the Ashmolean Museum is a tour de force of scholarly writing (David Ekserdjian)
Outstanding Renaissance and Baroque Bronzes at the Frick Collection (David Ekserdjian)
Recommended for you