People were wearing miniskirts for years before 1964, you know. Hemlines raised to display the knees were unremarkable for children, players of hockey and lacrosse, and chorus girls from West End musicals; so in a sense, the perennial debate about who invented the miniskirt – was it Mary Quant, or André Courrèges, or John Bates? – can be swiftly answered: none of them did. The miniskirt was already in the air. But fashion has by its very nature a limited vocabulary, finite in the way that the octave or the alphabet are finite; it finds new modes of expression by recombination, wresting shapes and fabrics designed for a very specific context (sportswear, workwear, military uniforms) and making them feel new, something immediately remarkable and rapidly commonplace.
While Mary Quant did not invent the mini, she very likely christened it (in homage to the compact car) and certainly did more than any other designer to popularise it. Her name is synonymous with the go-ahead, carefree yet pin-sharp styles of 1960s London. Above all, her clothes were revolutionary, not least in that they were democratising. Bazaar, her outlet on the King's Road, was arguably the first boutique in London; it took fashion away from the rarefied domain of the couturier, where every dress was an act of engineering that required many hands and the transfer of many guineas, and made it accessible to all. 'We don't want to look like a duchess,' she said. 'We certainly don't want to look like a duchess the way a duchess looked two years ago… I wanted to design clothes for young people.'
Quant's designs were youthful to the point of being almost infantile – pinafores, playroom silhouettes, Peter Pan necklines – but the new shape was combined with inventive appropriations from unexpected quarters. In her clothes we see echoes of 1920s flapper dresses and medieval pageboys' tabards, gymslips and Edwardian bathing costumes, rugby shirts and men's pinstriped suiting. She took PVC from trawlermen's waterproofs and planted it on the high street, and promoted jersey as a tactile fabric that offered a freedom of movement unthinkable in the heavily underwired 1950s.
Above all, Mary Quant designed the kind of clothes she herself would like to wear. It helped that she had a model's figure and an instantly recognisable look: her face, elfin and quizzical, peering out under a pelmet of Vidal Sassoon hair, her neck craned as if in a continual act of exploration. And her ideas were informed by her background, her training as an illustrator at Goldsmiths and the art-school set that she ran with. It is tempting to see in her minimalist approach something entirely in keeping with wider art-world trends: the block colours of her tunics and tights evoking Barnett Newman, her sharp geometry bringing to mind the work of Bridget Riley. The mod movement, after all, took its name from an abbreviation of 'modernist'. (It was a name that originally denoted their preferred flavour of jazz – Charlie Parker rather than the trad styles of Acker Bilk – but could equally describe the clean precision of their tailoring and worldview.)
Quant's influence on the appearance, and indeed the society, of mid-century Britain was so profound that it is easy to reduce it to cliché and generalisation. A new documentary about the designer, a directorial debut by Sadie Frost, suggests that she lived almost entirely in a world of stock footage: street scenes of lacquered shoppers on the King's Road, promotional films, Beatlemania, general Swinging London reportage and that overused Norman Parkinson film of Twiggy dancing in rainbow sequins, all soundtracked with golden hits of the 1960s. Unfortunately, there is seemingly not enough of this footage to fill the running time, so certain shots crop up repeatedly during its 90-minute duration. Most prevalent of all are a pair of present-day models who cavort obligingly in vintage Quant, filmed in a hazy approximation of Super 8 footage for a 'period' look; by the end of the documentary the viewer will greet with a weary familiarity one snippet in which they feign to trim the hemline of a skirt to micro-mini length, having seen it at least half a dozen times. This directorial style could charitably be interpreted as a kind of Pop art 'collage' approach, entirely in keeping with the times Quant lived in, although occasionally it makes the chronology confusing (the opening of Bazaar in 1955 is illustrated with footage clearly from the following decade), and at others is crashingly over-literal. ('We never looked back,' says a recording of Alexander Plunket Greene, Quant's business partner and husband, over a still photograph of the duo in a convertible sports car, looking back towards the camera.)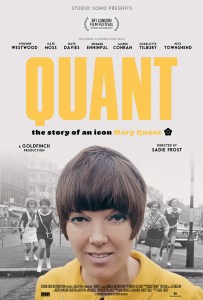 The narrative of Mary Quant's career is provided by an array of talking heads, including – a bizarre decision – the actress Camilla Rutherford 'playing' Quant herself, ventriloquising remarks on behalf of the nonagenarian (and non-participating) designer in the accent of a prim Victorian governess. Notably, Roger Tredre of Central Saint Martins and the fashion writer Terry Newman do an admirable job of providing wider context and analysis, locating the designs on the larger timeline of fashion from the 1940s New Look to the late 1970s New Wave, and tracing their links to the social and sexual revolution of the era. Other participants, from Quant's godson Jasper Conran to Vivienne Westwood and Edward Enninful, pop up to offer remarks that range from the insightful to the fatuous.
A comment by the guitarist Pete Townshend, referring to himself rather than Mary Quant, is perhaps the most telling. 'I often talk about the Who being on stage looking at their audience, copying what people in the audience were wearing,' he says, 'so that the following week we would be wearing what the people in the audience were wearing the week before. We would get the credit for the fashion changes.' In a sense, this is what Mary Quant did so well – acting as a conduit for ground-level trends among Chelsea's arty youth and bringing them to a wider audience. But to suggest that was all she did would be to do her a disservice; it was her genius for recontextualisation and recombination, her illustrator's eye for a striking shape and her innate understanding of exactly what young people wanted that made her such a titan of fashion. And that, as the film makes manifest, is something worthy of celebration.
Quant is in UK cinemas from 29 October.
Unlimited access from just $16 every 3 months
Subscribe to get unlimited and exclusive access to the top art stories, interviews and exhibition reviews.
Recommended for you