Apollo cannot claim powers of clairvoyance, but for the record, here was what we said back in September when the proposals to top Trafalgar Square's Fourth Plinth were unveiled:
Really Good, Shrigley's contribution, is anything but. A bronze fist with a grotesquely exaggerated erect thumb, it's glib as hell and will probably get the commission.
And thus it came to pass. Really Good will take up its position in 2016, an ugly monument to empty cheer, 10ft tall and hollow in every sense. Your correspondent may enter the National Gallery via the back entrance for the duration of its tenure.
Click here for a gallery of previous Fourth Plinth commissions
But that's (almost) enough bile for the moment. The good news is that next year will see New York-based German artist Hans Haacke's skeletal Gift Horse installed on the pedestal. With its neat little bow of London Stock Exchange ticker tape, it's an open invitation to question the symbols of power and finance that surround it. The direct view down Whitehall and the Mall may well see it become a magnet for agitators come the elections next May.
There's an extremely pleasing specificity to it – the space was originally to be filled by an equestrian statue of William IV. Gift Horse will, of course, be joining the steeds of George IV and Charles I in the square. Once the newcomer is installed, it will be hard to ignore the suggestion of a grim smile beneath the latter's proto-hipster facial hair.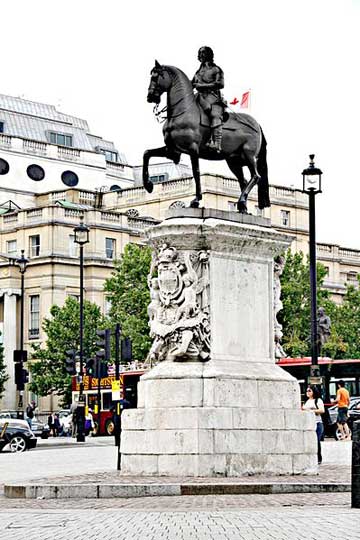 Haacke's proposal is a deserving winner, and Shrigley's… well, perhaps it's best not to repeat oneself. What rankles about Really Good's victory is not so much the statue itself, but that, in its sop to populism, the selection panel missed a truly fantastic opportunity. For in the selection presented to the public, there was one artist who stood out to the crown of Nelson's bicorn above the others:
'Marcus Coates's Unmade Monument… is beautiful, deeply serious without an iota of pomposity and absolutely perfect as plinth material,' I wrote in the blog quoted at the beginning of this piece, 'Heads should roll if it doesn't get chosen.' I wasn't referring to Charles I, either.
Unlimited access from just $16 every 3 months
Subscribe to get unlimited and exclusive access to the top art stories, interviews and exhibition reviews.
Recommended for you